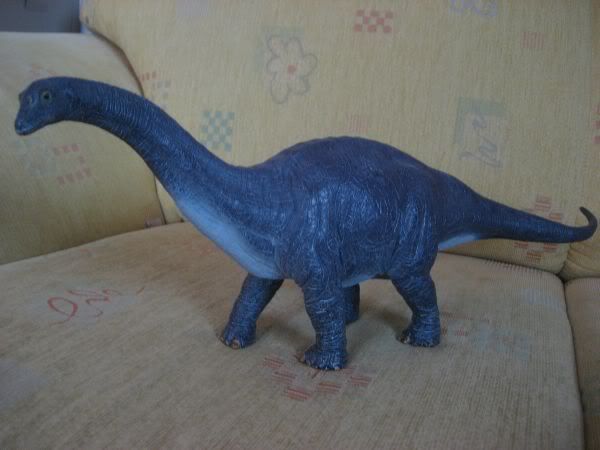 Size matters. Apatosaurus is the archetypical dinosaur, probably the most famous icon of palaeontology. Many companies have released it as a figure; Schleich did it for the third time now after their 1997 Apatosaurus, who was a blue, heavy, tail-dragging behemoth with a dull mien and its somewhat better baby.
Schleich 2008 Apatosaurus, too, is a massive piece of rubber. It is one of the biggest dinosaur figures ever, longer than Carnegie Brachiosaurus and taller than Carnegie Diplodocus.
And despite (or because) the headstrong, a little old school interpretation (although the tail is held upright), it is one of the best Apatosaurus figures out there.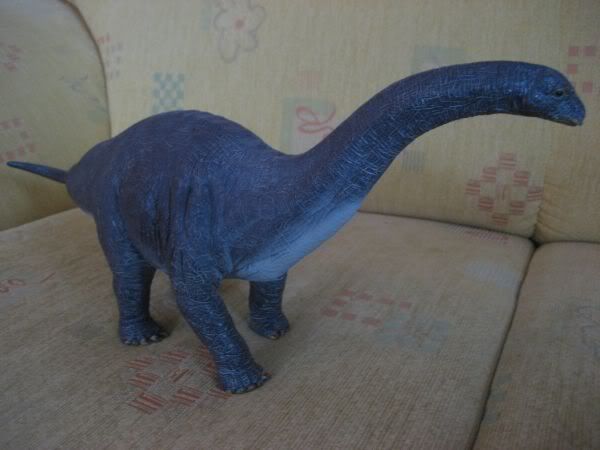 The details: Schleich Apatosaurus is 51, 4 cm long, 15, 4 cm tall and 10 cm broad. Its lavender colouring with the bright grey underside fits the figure quite well. For Schleich, lavender is a very unusual choice, the company is known for boring green and brown paintjobs.
What makes this figure so special is its heaviness. Both neck and tail were being sculptured very thick and the body is very fleshy and bulky, too, so that the overall look reminds me of the "The Future Is Wild" giant turtle.
Skin and flesh folds were accurately sculptured, giving the figure a vivid look. The Apatosaurus has been captured in a slowly walking pose, which makes it not as static and monumental as some other Schleich figures are.
The head is neat: Sadly looking deeply black eyes reflect the light, making the mien very lively. The muzzle reveals overlapping upper lips, a plausible idea for the look of the figure. But Apatosaurus was a high browser, pulling off twigs and branches from conifers with fyke – like teeth. So the lips of the figure are probably not very lifelike. The nostrils are probably too far back at the snout. This interpretation has become obsolete, since science now found out that most sauropods had their norstrils on the very front of their heads. Macronarians even are thought to have had fleshy nose sacs over the skull openings nowadays. Whether Apatosaurus as a Diplodocid had those too, will remain unclear.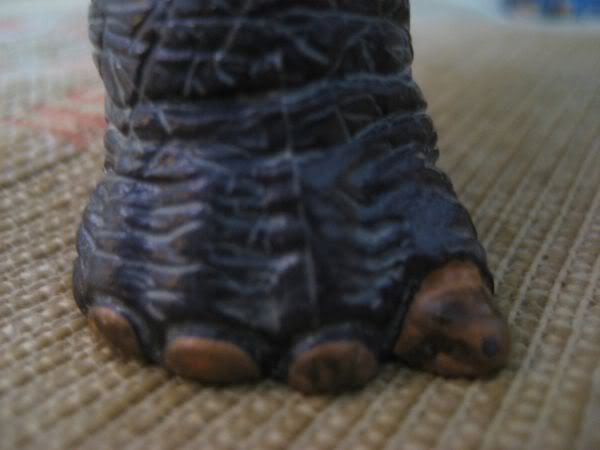 The stem legs are strongly and heavily built. They end in paddling pool feet, each equipped with five toes. The first two toes on each foot are big claws, the other three toes are more like toes of an elephant.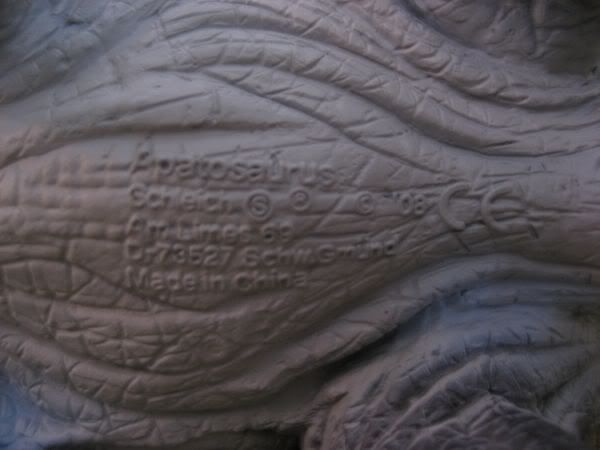 Schleich Apatosaurus will always be a controversial figure. Either one loves it or one does not. There is no shrugging "I don´t care" or "Well, quite okay" about this one. I personally love it and recommend it to every Sauropod freak out there who has enough space on his shelves and money left to adopt it. You can get it at any virtual or real toy store.
Available from Amazon.com (here)