Papo made an Oviraptor. And they made it well. Great fuss has been made around this figure, because again a Papo figure takes that typical "love it or hate it" – attitude as a basis, which I personally highly adore.
Albeit Papo´s interpretation of this late Cretaceaous Mongolian theropod turned out to be very old school, if not obsolete, many people now regard it as another Papo masterpiece.
The Papo Oviraptor stands 8 cm tall and is 12 cm long. Its concept didn´t include feathers and an agile pose. Contrariwise the overall look is quite reptilian, although the arms and legs have been sculpted very delicately. The hands are probably not in the correct position; one even holds an egg, due to an age-old assumption that Oviraptor stole eggs. Later it had been proofed the fossil animal lay on its own nest, breeding. Yet Papo said yes to the idea and made it basal for their Oviraptor.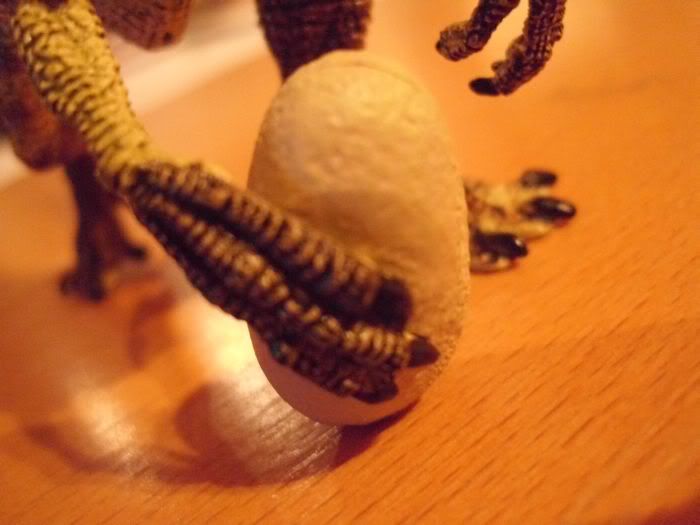 Attaching an item to a figure can easily look goofy and is not that common in dinosaur figure business. A single fish had been added to Bullyland Pteranodon sternbergi, Invicta´s Baryonyx had yet another fish being attached to its front claws. Luckily – except for the overall wrong idea of Oviraptor stealing eggs – this undertaking has been successful at all these three dinosaur figures.
Papo again have been loyal to their very unique style – theropods are, except for the Tyrannosaurus, always in the vertebra – parallel – to – ground – position. Unfortunately Papos loyalty again includes their boring colour concept, even for the new figure. It reveals a brownish green, sometimes tan colouring, of course with the very detailed worked out scales.


The only colourful body part is the red crest on the head. In real life it was probably useful for both intimidation and awing rivals.
Actually, the highlight of this figure definitely is its head. Each and every detail of the fossil skull has been considered here – the beak, the crest, the position of the skull bones, and the position of nostrils – everything really delectable for dinosaur enthusiasts. The two teeth, probably proper for cracking molluscs, snail shells or even seeds, and the tongue are the highlights within the highlight.
In short I want to state that this figure certainly is not suited to become everybody´s darling, due to the obsolete conception. It´s the same as with Papo´s Velociraptor here: If you don´t cling to your point of view or scientific correctness stubbornly, this figure can be a lot of fun. You let a cool statement slip by if you decide to only collect "correct" figures in this case.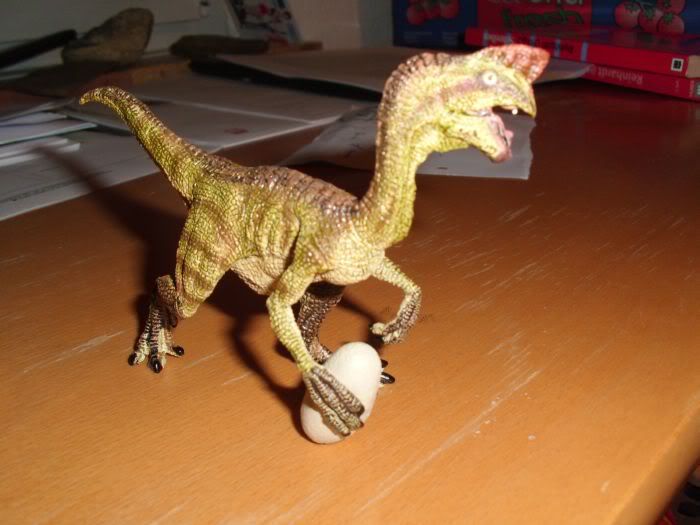 The Oviraptor is commonly available everywhere on the web, here on Amazon for example, or in your local toy store.