Review and Pictures by Nicholas Anning ("Brontozaurus")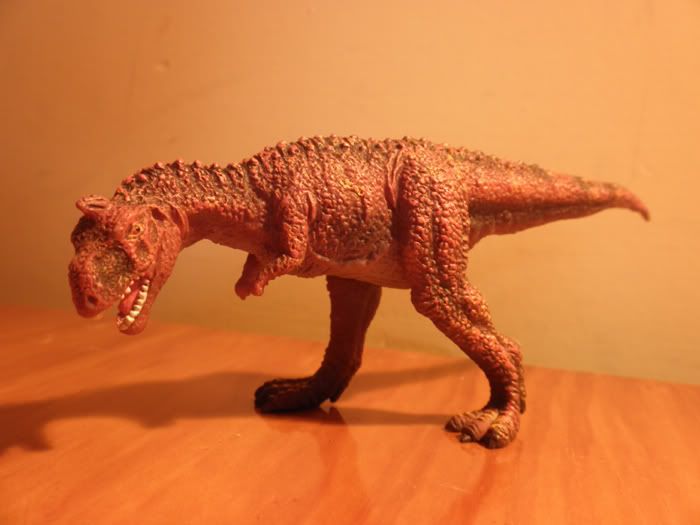 With the notable exception of Carnotaurus, abelisaurids have not often been made as toys. Lately, though, there has been a move towards renditions of less well-known species, perhaps because toys of the most famous dinosaurs are very common. An example of this is CollectA's Majungasaurus.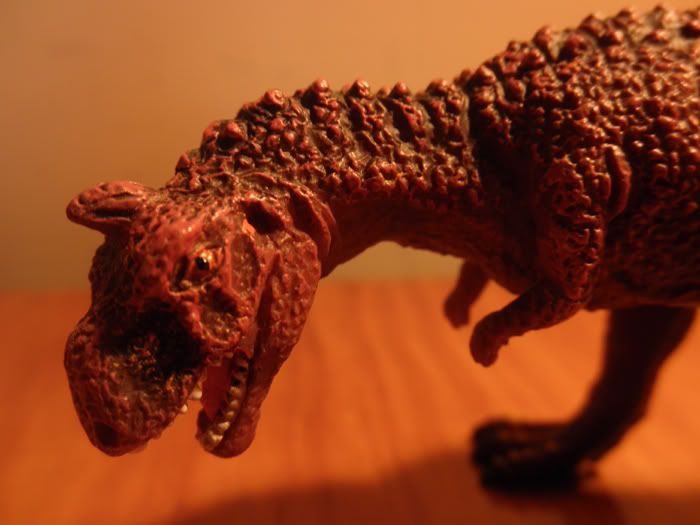 Majungasaurus (formerly Majungatholus, which this toy is labeled as) was an abelisaurid theropod which lived in Madagascar 70 million years ago. It was previously thought to be a pachycephalosaurid until more skull material was found. This dinosaur grew to a size of 6-7 metres, whereas this toy is 14 centimetres long. Despite its small size, there is a lot of sculpted detail, including scales, skin folds, and a row of scutes running the length of the back and tail. This last element is presumably an inference based on Carnotaurus, which had similar bumps on its skin. However, the toy overall is still accurate to what is known of Majungasaurus. The stocky back legs and the tiny arms are present, each with the correct number of digits. It still suffers from the common error of pronating the hands-they point downwards instead of inwards. The head is largely accurate, though the horn is somewhat exaggerated and the head is more elongated than in the actual animal, but by and large this is an accurate reconstruction.
This Majungasaurus is coloured a dull red pink, with some black on the top and sides, a dusty grey underbelly, and some orange-yellow stripes along the body (though the pictures don't show it very well). While it's certainly an eye-catching colour scheme, you have to wonder how well it would have served the actual animal.
Like nearly all theropod dinosaur toys, this Majungasaurus is posed with its mouth open, showing its many teeth. It appears to be stalking something, looking down towards the ground. An element worth remarking on is that this toy can stand on its own two feet without having to resort to the 'tripod' that more than a few bipedal dinosaur toys use even now. It's a minor element, but I like it.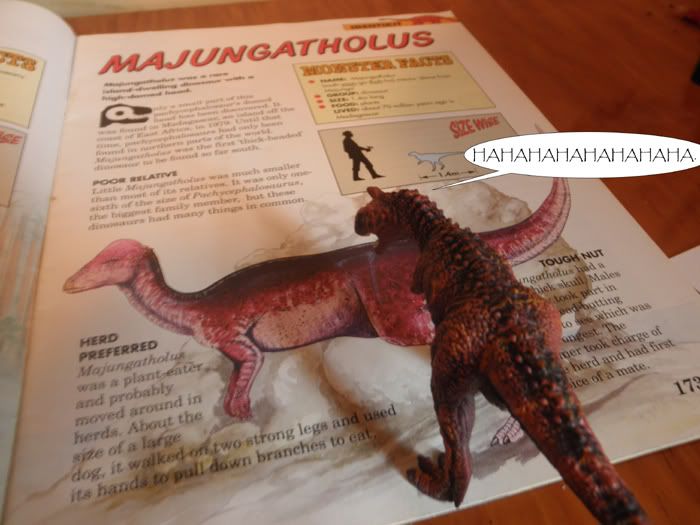 I rather like this toy. It's a well sculpted, largely accurate representation of Majungasaurus, despite the few anatomical errors mentioned above. It's also small and not particularly expensive, so it's suited for those who don't have the space or money (or both) for larger figures.