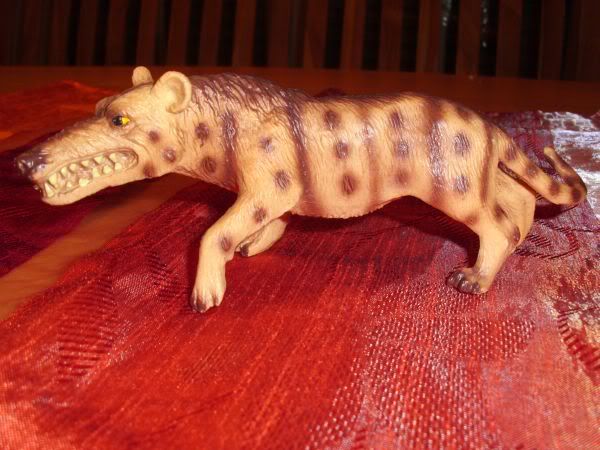 Andrewsarchus, the interesting (in terms of its discovery, its size, its habits and its look) large basal mesonychid from the Eocene epoch is rarely depicted by toy lines. Safari and Bullyland are the only companies that released it as a commonly available toy figure. Kaiyodo made a small one from plastic, and there is a tin version from Mega Miniatures.
I like the Bullyland version very much. A credible pose, showing the animal prowling and watching out for prey (or intimidating an opponent by snarling) and great proportions make it irresistible. And it looks evil! It is snarling. Although this evilness changes into silliness when you look at the head from its very front.
Then Andrewsarchus seems to peer and looks like the big wolf from the story of the three little pigs.
It is obvious to colour an animal that probably resembled recent lions or tigers tan and brown. And it is also obvious to provide it with a mane at the long neck. Dark dotty stripes at the flanks may have served as camouflage. This Andrewsarchus looks like a bastard between a boar, a bear and a tiger, which is probably very close to its appearance in real life.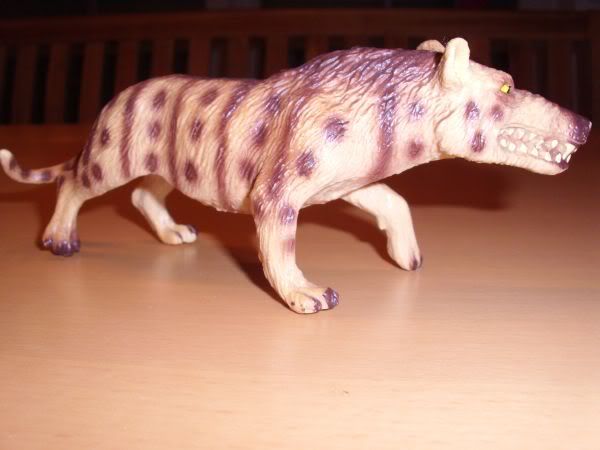 Bullyland Andrewsarchus is a good choice for every collector and shows up on ebay quite often for reasonable prices.